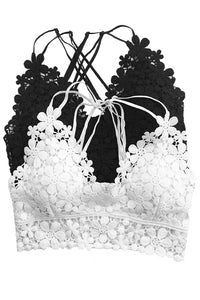 Crochet lace bralette with a pull over style. Removable bra pads, criss-cross adjustable straps at back.

Sold in packs of 1S, 1M & 1L. If available, sold in individual sizes
* PLEASE NOTE: Prices reflect pack cost NOT individual item cost, unless individual sizes available. Pack sizing it typically 3 pieces unless shown otherwise.
100% Cotton
Sizing:
S: 32B, 34A, 34B
M: 34B, 34C, 36B
L: 36B, 36C, 38B,38C